CLOSE
As "Game of Thrones" comes to an end, the remaining cast guesses how many characters they've said goodbye to over the last seven seasons.
USA TODAY
Winter is here, and it's bringing the jokes. 
On Sunday HBO premiered the long-awaited eighth season of juggernaut fantasy hit "Game of Thrones" and the internet exploded in response. According to Twitter, more than 5 million tweets were sent about the season premiere, making it the most tweeted-about episode to date. 
So what were all those fans tweeting and commenting about last night? We rounded up the best of the memes, jokes and angry tweets, from HBOGo going down to worries about how the show will wrap things up in just five more episodes. 
Season 8 premiere recap: Secrets, Starks and spirals in 'Winterfell'
Fans enjoyed Drogon making eyes at Jon
"Just waiting for an old friend." (Photo: Helen Sloan/HBO)
And also the Bran and Jaime reunion Less funny and more heart-warming was Jon and Arya's long-awaited reunion They were also relieved that Jon finally found out the truth about his parents (and also that he's having sex with his aunt) Of course, problems with streaming the episode did not go over wellAs excited as most fans were, some were worried about wrapping up all the storylines in just five more episodes
The premiere of Game of Thrones made me think "there is no way they can wrap this up in 5 more episodes."
— Andrew Yang (@AndrewYang) April 15, 2019
Worried about Game of Thrones. Will they be able to wrap everything up in the next 5 episodes?
— Mbali Madhlala (@MbaliMadhlala_) April 15, 2019
But one fan, Joe Jonas, was celebrating the premiere in his own special way, dressed as his fiance Sophie Turner's character, Sansa. 
'Game of Thrones' Season 8: Images from the final episodes
Post to FacebookPosted!
A link has been posted to your Facebook feed.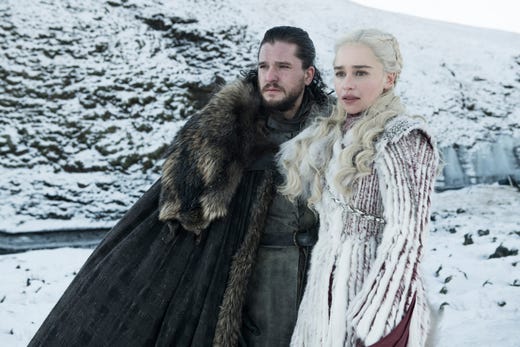 "Game of Thrones" is finally back after a nearly two-year hiatus. Click forward to see photos from  the eighth and final season. Here, fan-favorite character Jon Snow (Kit Harington shows Queen Daenerys Targayen (Emilia Clarke) around the North. Helen Sloan/HBO
Sophie Turner as Sansa Stark on "Game of Thrones." Helen Sloan/HBO
Isaac Hempstead-Wright as Bran on "Game of Thrones." Helen Sloan/HBO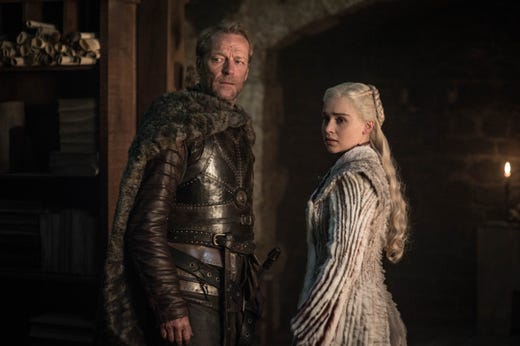 Iain Glen as Jorah and Emilia Clarke as Daenerys Targaryen on "Game of Thrones." Helen Sloan/HBO
Emilia Clarke as Daenerys Targaryen on "Game of Thrones." Helen Sloan/HBO
Iain Glen as Jorah Mormont on "Game of Thrones." Helen Sloan/HBO
Kit Harington as Jon Snow on "Game of Thrones." Helen Sloan/HBO
Emilia Clarke as Daenerys Targaryen on "Game of Thrones." Helen Sloan/HBO
Peter Dinklage as Tyrion Lannister on "Game of Thrones." Helen Sloan/HBO
Emilia Clarke as Daenerys Targaryen on "Game of Thrones." Helen Sloan/HBO
Isaac Hempstead-Wright as Bran Stark on "Game of Thrones." Helen Sloan/HBO
Gwendoline Christie as Brienne of Tarth on "Game of Thrones." Helen Sloan/HBO
Emilia Clarke as Daenerys Targaryen on "Game of Thrones." Helen Sloan/HBO
Gwendoline Christie as Brienne of Tarth on "Game of Thrones." Helen Sloan/HBO
Kit Harington as Jon Snow on "Game of Thrones." Helen Sloan/HBO
Sophie Turner as Sansa Stark on "Game of Thrones." Helen Sloan/HBO
Lena Headey as Cersei Lannister on "Game of Thrones." Helen Sloan/HBO
Isaac Hempstead Wright as Bran on "Game of Thrones." Helen Sloan/HBO
John Bradley as Sam on "Game of Thrones." Helen Sloan/HBO
Lena Headey as Cersei on "Game of Thrones." Helen Sloan/HBO
Nikolaj Coster-Waldau as Jaime Lannister on "Game of Thrones." Helen Sloan/HBO
Kit Harington as Jon Snow on "Game of Thrones." Helen Sloan/HBO
Lena Headey as Cersei on "Game of Thrones." Helen Sloan/HBO
Peter Dinklage stars as Tyrion on "Game of Thrones." Helen Sloan/HBO
Gwendoline Christie as Brienne of Tarth on "Game of Thrones" Helen Sloan/HBO
Maisie Williams as Arya Stark on "Game of Thrones." Helen Sloan/HBO
Sophie Turner stars as Sansa Stark on "Game of Thrones." Helen Sloan/HBO
Emilia Clarke as Daenerys on "Game of Thrones." Helen Sloan/HBO
Conleth Hill as Varys on "Game of Thrones." Helen Sloan/HBO
Liam Cunningham as Davos on "Game of Thrones." Helen Sloan/HBO
The final season of "Game of Thrones" arrives on HBO on April 14 (9 EDT/PDT). HBO
Interested in this topic? You may also want to view these photo galleries:
Autoplay
Show Thumbnails
Show Captions
Last SlideNext Slide
Read or Share this story: https://www.usatoday.com/story/life/tv/2019/04/15/game-of-thrones-fans-react-biggest-moments-season-8-premiere-winterfell-hbo-jon-sam-bran/3470720002/
Source link : http://rssfeeds.usatoday.com/~/600848736/0/usatodaycomtelevision-topstories~aposGame-of-Thronesapos-Funniest-angriest-and-most-anxious-fan-reactions-to-Season-premiere/
Author : USA TODAY
Publish date : 2019-04-15 13:12:44